Automotive
Remember when "woody" wagons ruled the streets? Back then, superior handcrafted workmanship and pride in taking the time to do a quality job were standard. The artisans of Richard King & Sons are committed to applying those same values into our work today. Though the times may have changed, our commitment to our customers hasn't.

Richard King & Sons specializes in renovating wood-bodied vehicles of days gone by. In addition, we create and refurbish wooden accents and interior parts including dashboard inserts and gauge panels. Any project, from a single piece to an entire wood package can be refinished, restored, or reveneered. Custom dashboards and trim sets can be made to your exact specifications. We offer world class custom design and manufacturing of exquisite wood components for all of your vehicular needs.
We are members of the following organizations:
National Woodie Club
National Street Rod Association
Antique Automobile Club of America
National Federation of Independent Business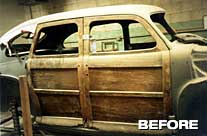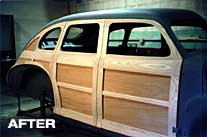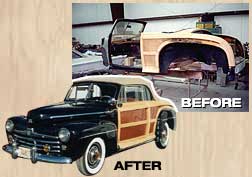 Marine
Because of the booming yacht market, we have expanded our services to accommodate this ever-growing customer base. We specialize in the renovation, refit and complete reconstruction of boat cabinets and accent pieces. Custom yacht cabinets are fabricated from exact measurements of all adjoining surfaces on-board to guarantee a precise custom fit every time.

We can repair or replace damaged exterior teak and rails and other wooden accessories as well as upgrade interior teak trim, hatches, doors or cabinets. Richard King & Sons provides custom marine woodworking services for your boat hatches, control consoles, cabin doors, tables, lockers etc.

We are not limited by size, brand or type. From the smallest of pleasure craft to ocean going mega-yachts, Richard King & Sons can manage any job.