Richard King & Sons has accomplished several high-profile commercial projects including; court rooms, banks, corporate offices and restaurants, schools, museums, conference rooms, etc. We work closely with project designers, architects and builders to meet your client's commercial space requirements.

Imagine commercial space with sleek teakwood flooring, majestic mahogany cabinets or elegantly carved cypress walls. We produce workstation systems, reception desks, countertops, displays, wall units and other commercial fixtures that can be executed in any combination of woods and finishes and installed in the desired trajectory.

We know a lot of consideration goes into designing a commercial space. The need for display, storage, equipment placement, etc. is important. Fixtures and displays vary not only in material and design, but they are also the most effective way to promote workflow. No matter what type of commercial space your client maintains, we can design and implement the best fixture for any application.

Ribbon Cutting Scissors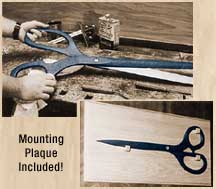 Create a lasting impression at all your significant events with ceremonial Ribbon Cutting Scissors from Richard King & Sons.
These scissors are an impressive 33" in length and come with a protective cloth bag and mounting panel for wall display.
Crafted from the finest quality teakwood and fitted with durable, stainless steel blades, these scissors will become a symbol of all your historic moments.